Next meeting January 15th at Oxbow center 5:30 ( 2007 Calendar Planning )
The agenda
- The Calendar - brain storm and draft our 2007 calendar. We need your
ideas for tours, topics,speakers, workshops, and other activities that
you would like to see on the club calendar for 2007. The meeting will be
at the Oxbow at 5:30pm.
- Judy Pearson will have a presentation of tropicals and desert
plants from a resent trip.
- Other activities for the evening include renewing your membership,
signing up for meeting refreshments and door prizes, update the roster
and purchasing tickets for Ciscoe.
*January 25 -* The Boeing employees garden club(s) and the Boeing
Management association are working together to host Ciscoe Morris on
Thursday night from 4 - 6 at the Boeing Everett site. Tickets are only
$5. You can get your tickets at the meeting on the 15th. Guests are
welcome, as long as they are identified on the list we provide to Boeing
security. We will arrange car pools from the Oxbow (probably leaving at
2:45pm so we can arrive early to help set up).
Special Event Ciscoe Morris, celebrity horticulturist
Date: 01/25/2006 at 4:00 PM
Location: Everett 40-92 Large Special Functions Room
Tickets $5.00 Contact Joyce Holloway joyce@solarhacker.com
or Kathy Wyatt 206-850-4867 Email MS: 03-LA
Sign Up Deadline: 01/19/2007
Sign Up Instructions: All non-Boeing guests and Gold Card Members must
provide full name and Citizenship for Security at time of sign up to the
event coordinator. Boeing email it, Gold Card please include with your
check. Names will go on list, no TICKETS will be mailed. Non-Boeing be
prepared to show your ID.
Coordinator: KATHRYN M WYATT
Description: Ciscoe Morris, beloved horticulturist, will be the central
focal of a first time event co-hosted by Boeing Management Association
and the Boeing Employees Garden Club. He will talk with us and our
guests, sharing his stories. Ciscoe loves to answer those tough garden
questions. Ciscoe's enthusiasm will bring sunshine to the middle of
winter and he will get you thinking about your next spring garden.
Ciscoe Morris is a distinctive transplant from Wisconsin and has shared
his horticulture expertise serving 24 years as Seattle University
Grounds Manager, King County Master Gardener, and is seen on TV garden
spots as well as speaking at several events throughout the year. He has
become a local celebrity known for his beloved sense of humor.
Refreshments provided by Boeing Employees Garden Club. Event begins at
4:00 p.m. and is scheduled to end at 6:00 p.m.
PICTURES FROM CHRISTMAS WREATH MAKING MTG.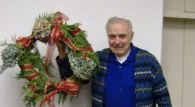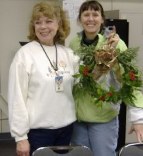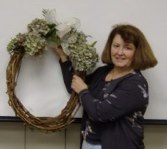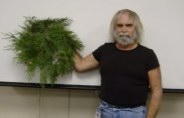 October Meeting Brunch at Judy's and Windmill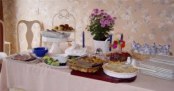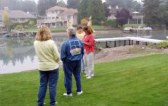 For club info contact BEGC -Seattle President Marie Merry
merrybirds@yahoo.com 425-235-0372.
Welcome to the Boeing Employees' Garden Club- Seattle web site.
Website contact is Donna Vincent
email to tabbymanx@aol.com
updated 1/10/07
BOEING EMPLOYEES' GARDEN CLUB
Table of Contents click on any of the titles below:
News items and editorial comment in this website do not necessarily reflect the views or opinions of the Boeing Company